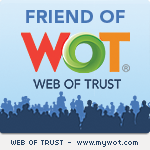 Free Internet Security. WOT warns you about risky websites.
WOT is a
free
Internet security addon for your browser. It will keep you safe from online scams, identity theft, spyware, spam, viruses and unreliable shopping sites. WOT warns you before you interact with a risky website. It's easy and it's free.
Surf safer and protect your computer. Add WOT to your Firefox or Internet Explorer browser now!
To get the most out of WOT you should register. After you register you have access to our full range of features.
Register now